Exploring Sea Life Sydney Aquarium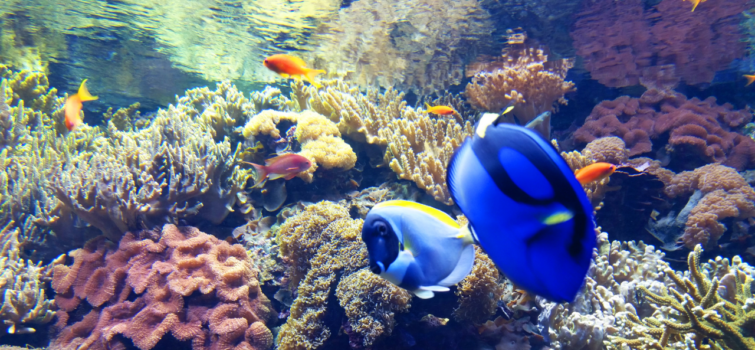 When it comes to family-friendly activities in Darling Harbour, Sea Life Sydney Aquarium is a top choice that promises an exciting and educational experience for all ages. Home to a diverse range of marine life, including sharks, rays, and dugongs, this renowned aquarium offers an immersive journey through underwater worlds. In this blog, we'll take you on a virtual tour of Sea Life Sydney Aquarium and provide information on how to get there from Marco Polo Sydney Hotel, ensuring a memorable aquatic adventure for the whole family.
Discovering Sea Life Sydney Aquarium:
Sea Life Sydney Aquarium is a captivating attraction that showcases the beauty and diversity of the ocean's inhabitants. With its location near Darling Harbour's finest restaurants, bars, and entertainment options, it's the perfect addition to your itinerary for exploring this vibrant area of Sydney.
Getting There:
To reach Sea Life Sydney Aquarium from Marco Polo Sydney Hotel, follow these simple steps:
Walk approximately 6 minutes from Marco Polo Sydney Hotel to Summer Hill Train Station.
Take a train from Summer Hill Train Station to Central Station. The journey takes around 15 minutes.
From Central Station, head to the Light Rail platform and board the L1 Dulwich Hill Line tram towards Dulwich Hill.
Alight at the Convention Light Rail Station, which is a short walk from Sea Life Sydney Aquarium.
Follow the signs and make your way to the aquarium entrance, where your underwater adventure begins.
Note: It's advisable to check the current timetables and any updates regarding public transport routes to ensure a smooth journey.
Exploring Sea Life Sydney Aquarium:
Once you arrive at Sea Life Sydney Aquarium, prepare to be mesmerized by the incredible marine exhibits and interactive experiences.
Here are a few highlights to look forward to:
Shark Walk: Walk through an underwater tunnel surrounded by sharks, rays, and other fascinating sea creatures. Experience the thrill of being immersed in their underwater world.
Penguin Expedition: Embark on a boat ride through a sub-Antarctic environment and witness adorable King and Gentoo penguins in their icy habitat.
Dugong Island: Get up close to the gentle dugongs and learn about their conservation in this unique exhibit.
Great Barrier Reef: Dive into the world's largest living coral reef exhibit, home to an array of colorful tropical fish, corals, and more.
Interactive Touch Pools: Let the kids get hands-on with marine life at the touch pools, where they can touch starfish, sea cucumbers, and other fascinating creatures.
Tips for Visiting Sea Life Sydney Aquarium:
Check the aquarium's website for opening hours, ticket prices, and any special events or shows.
Consider purchasing tickets online in advance to skip the queues and ensure your preferred entry time.
Plan for at least a couple of hours to fully explore the aquarium and engage in the interactive exhibits.
Take advantage of the educational talks and feeding sessions scheduled throughout the day to enhance your understanding of marine life.
Capture memories by bringing a camera or smartphone to document your favorite moments.
Sea Life Sydney Aquarium offers an unforgettable adventure into the depths of the ocean, providing an enriching and entertaining experience for visitors of all ages. From the captivating exhibits to the interactive touch pools, there's no shortage of marine wonders to discover. By following the suggested route from Marco Polo Sydney Hotel, you can easily access this remarkable attraction and make lasting memories with your family. So, dive into the underwater wonderland of Sea Life Sydney Aquarium and embark on an aquatic journey like no other in the heart of Darling Harbour. Call one of our friendly staff members by phoning 02 8880 8320 or 0410113288 or by email at bookings@marcopolosydney.com.au